ABOUT BUBBLE PIRATE SHOOTER
BUBBLE PIRATE SHOOTER DESCRIPTION
Bubble Pirate Shooter is a classical bubble shooter game. The aim of the game is very simple , you have to use the cannon on the deck - shoot coloured balls upward and place 3 or more balls together to destroy them. You will get better score if you complete the level early. Good Luck!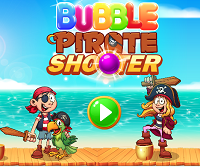 HOW TO PLAY BUBBLE PIRATE SHOOTER
Use mouse to control in this game.