ABOUT BUBBLE SHOOTER AFRICA
BUBBLE SHOOTER AFRICA DESCRIPTION
Bubble Shooter Africa game is in the category of Puzzles Games and you can play this free game. Enjoy this bubble shooter game with African theme and power ups. Aim and release items order to combine with other similar items. Use power-ups to overcome challenges.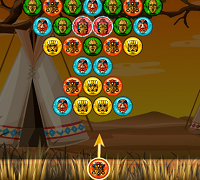 HOW TO PLAY BUBBLE SHOOTER AFRICA
Use mouse or touch pad to shoot the bubble.