ABOUT BUBBLE SHOOTER GOLD MINING
BUBBLE SHOOTER GOLD MINING DESCRIPTION
Bubble Shooter Gold Mining is a pretty classic bubble game in which you will have to collect gold pellets embedded in bubbles that you will have to destroy. Shoot bubbles on the board to form groups of 3 or more bubbles of the same color. You must complete a level in the time allowed. You will get a higher score if you finish the level early.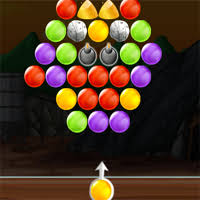 HOW TO PLAY BUBBLE SHOOTER GOLD MINING
Use mouse to control in this game.