ABOUT BUBBLEZ!
BUBBLEZ! DESCRIPTION
Welcome to bubble shooter game Bubblez! Your objective is to clear the level by popping bubbles. To clear the level, you have to aim carefully and shoot the bubble clusters with the same-colored bubbles. When you link 3 or more of the same-colored bubbles, you will clear them from the board. Bubblez supports up to 5 players so you can invite your friends to get in on the fun!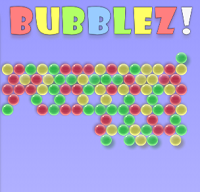 HOW TO PLAY BUBBLEZ!
Use mouse to play!