ABOUT CANDY BUBBLES
CANDY BUBBLES DESCRIPTION
Welcome to Candy Bubbles game! Your goal is to match groups of three or more same-colored candy bubbles on the playing field and clear them all. Use your superb technique by using the least small ball in order to end level quickly and experience a sense of happiness when you succeed.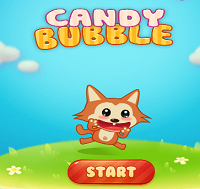 HOW TO PLAY CANDY BUBBLES
Use your mouse or touch the screen too.