ABOUT CANDY FRUIT CRUSH
CANDY FRUIT CRUSH DESCRIPTION
Candy Fruit Crush is a game that is so famous. Try your hand at this special edition and show your abilities. Your task is to collect a certain amount of fruit, break the chocolate bar, create a reward of a certain type, get a full fruit basket. If it doesn't match, you need to replay the level until you reach it in Candy Fruit Crush. Try to get enough points to level up as high as possible. Good luck!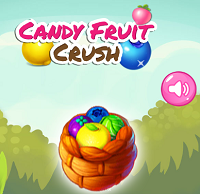 HOW TO PLAY CANDY FRUIT CRUSH
Use the mouse to change the position of the candies.