ABOUT CLUSTERZ!
CLUSTERZ! DESCRIPTION
Your objective in this fun online game is to remove all color bubbles by matching three or more bubbles of the same color. Black bubbles cannot be removed. An isolated bubble disappears from their field. The game is over if bubbles reach the bottom. All the bubbles change their color randomly if you let a shooting ball fall down. Good Luck!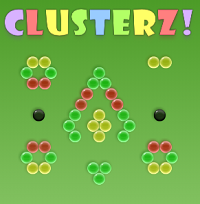 HOW TO PLAY CLUSTERZ!
Use mouse to play!