ABOUT COLOUR BALL FILL
COLOUR BALL FILL DESCRIPTION
Color Ball Fill is great game and entertain you! The colorful balls need to fall into the correct bucket. Drag and move the bouncing pads where the ball will bounce off. Release the ball from the top and it must reach the amount of balls that needs to fall into the bucket required to pass the level. Have a nice game!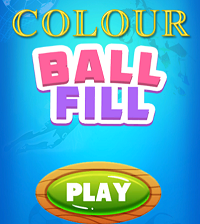 HOW TO PLAY COLOUR BALL FILL
Use mouse to control in this game.