ABOUT CRAIG OF THE CREEK: DEFEND THE SEWERS
CRAIG OF THE CREEK: DEFEND THE SEWERS DESCRIPTION
Craig of the Creek: Defend the Sewers is a match-3 bubble shooter game inspired by the Zuma . Discover this unique version of "Zuma" -- shoot like-colored balls and match at least 3 similar ones to make them disappear. Help Craig accomplish his mission and enjoy!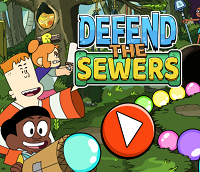 HOW TO PLAY CRAIG OF THE CREEK: DEFEND THE SEWERS
Use mouse to control in this game.