Click 'Allow' to play Critter Zapper!
Click the Lock icon and change Block to Allow to play Critter Zapper.
1. Click the
or
-icon top left in the Chrome address bar.
2. In the Flash dropdown, select '
Allow
'
3. Refresh the page.
Click 'Always allow' to play Critter Zapper!
Allow button not appearing? Click here »
If you don't see the Flash option above, you can still enable Flash as follows:
Open a new tab and go to
Change Block (default) to Allow in the Flash section
Reload the page
This game is using Flash! After the 31st of July 2019, your internet browser might start blocking Flash, especially if you use Google Chrome. This means you'll have to activate it to play this game.
BUBBLE SHOOTER
ABOUT CRITTER ZAPPER
CRITTER ZAPPER DESCRIPTION
It is time for you to zap some critters. You are in control of an extremely powerful critter zapper tool, and your object is to create a critter free society by zapping all the crawly creatures. Match three bugs of the same color to clear them off of the link of bugs bushing forward. Clear out the link completely by firing matching bugs at it. Combos are worth extra points, and will clear the train faster. Don't let them reach the end. Have Fun!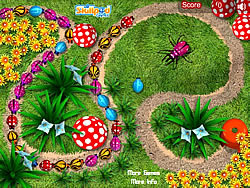 HOW TO PLAY CRITTER ZAPPER
Controls : Mouse