ABOUT EASTER SHOOTER GAME
EASTER SHOOTER GAME DESCRIPTION
Easter Shooter Game is a game of collecting all easter eggs on each level without allowing any eggs to fall below the last line. Easter season has arrived, and it's time to play Easter Shooter! Did you color your eggs? There will be Easter eggs of different colors hidden in the game. You have nothing to worry about if you haven't drawn anything yet because there are many eggs for you to find in this game! But to win you will have to break those eggs! Will you be able to win without leaving any gaps on the chessboard?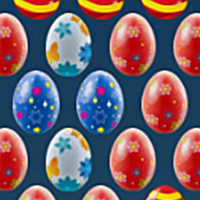 HOW TO PLAY EASTER SHOOTER GAME
The game can be played with a mouse if you have one. After you point the mouse to the location where you want the egg to land, you can release it to start launching. They need to have the same color and pattern before they can be removed from the table. They must make a combination of at least three eggs of the same color for you to shoot and you should shoot it.
Arcade
Bubble Shooter
Bubble
Shooter
Kids
Games
Easter
Season
Seasonal