Click 'Allow' to play Grav Shooter!
Click the Lock icon and change Block to Allow to play Grav Shooter.
1. Click the
or
-icon top left in the Chrome address bar.
2. In the Flash dropdown, select '
Allow
'
3. Refresh the page.
Click 'Always allow' to play Grav Shooter!
Allow button not appearing? Click here »
If you don't see the Flash option above, you can still enable Flash as follows:
Open a new tab and go to
Change Block (default) to Allow in the Flash section
Reload the page
This game is using Flash! After the 31st of July 2019, your internet browser might start blocking Flash, especially if you use Google Chrome. This means you'll have to activate it to play this game.
BUBBLE SHOOTER
ABOUT GRAV SHOOTER
GRAV SHOOTER DESCRIPTION
An innovative look at Bubbledhooter games is Grav Shooter. Your goal is to do three consecutive times as soon as possible but you do it the way you never did. The game takes place in a circle, the balls in the circle provide the snowball effect. Initially there are small circles with balls but soon the circles will become larger. In addition to playing differently, there are also some creative possibilities in this game. So you build some gray balls that you can shoot with space bar. This causes havoc and this can be helpful if the balls are too close. If you make a nice combination, you will also unlock the bonus. All the reasons to try Grav Shooter quickly.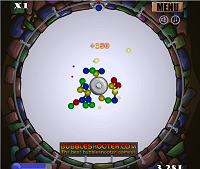 HOW TO PLAY GRAV SHOOTER
Use mouse to play this game