ABOUT MAGIC BUBBLE QUEST: CLASSIC
MAGIC BUBBLE QUEST: CLASSIC DESCRIPTION
We hope you have good aim because the popular Magic Bubble Quest: Classic is here. Jump into the bouncy and colorful world of Magic Bubble Quest: Classic and start clearing levels. Belonging to the match-3 puzzle genre, games will keep you entertained through the many levels it offers. Ready, aim, fire. Clear the board making groups of three or more bubbles of the same color and try to make huge bubble avalanches. The indicator in the bottom left shows the number of unsuccessful shots till another line appears.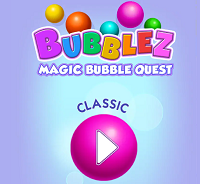 HOW TO PLAY MAGIC BUBBLE QUEST: CLASSIC
Use your mouse to aim and click to shoot.