ABOUT MAGICAL MATCH SLIDER
MAGICAL MATCH SLIDER DESCRIPTION
Welcome to Magical Match Slider, a challenging and exciting game. In this game, you slide a row of magical items horizontally or vertically to make horizontal and vertical matches of 3 or more similar items. Use your mouse or fingertip to move the rows around and collect the required pieces in order to complete a level. Try and see how many levels you can finish before time's up - good luck!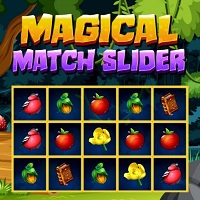 HOW TO PLAY MAGICAL MATCH SLIDER
Use a mouse or touchpad to play this game.