ABOUT MINECRAFT BUBBLE
MINECRAFT BUBBLE DESCRIPTION
Amuse yourself with this classic bubble game. Boys, all you have to do is break the balloons in well established order. Help Minecraft to make groups of three or more bubbles of the same color in order to destroy them and gain points.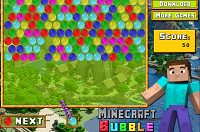 HOW TO PLAY MINECRAFT BUBBLE
Use the mouse to play this one.