ABOUT NUM BUBBLES ORDERING
NUM BUBBLES ORDERING DESCRIPTION
Num Bubbles Ordering is an interesting number puzzle game. At each level, you will get 10 number bubbles. If you choose the wrong bubble, you will lose 50 points. If you select the correct bubble, You will get 100 points. To gain 'time bonus points', complete the game before the time ends.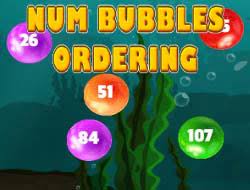 HOW TO PLAY NUM BUBBLES ORDERING
Touch or click the numbers in the asked order.