ABOUT ORBITING XMAS BALLS
ORBITING XMAS BALLS DESCRIPTION
This is a very nice Xmas theme bubble shooter game where you will shoot balls towards swinging wheel of balls. To win a level you need to achieve target score. Surplus of your score will help you to pass the next levels. Have Fun!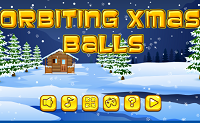 HOW TO PLAY ORBITING XMAS BALLS
Use mouse to control in this game.