ABOUT PIRATE BUBBLES
PIRATE BUBBLES DESCRIPTION
Looks like Pirate Bubbles is on his way to find some lost treasure and he has you on board his ship to help out. Clear away these challenging puzzles as you get closer to your goal.
Good luck!!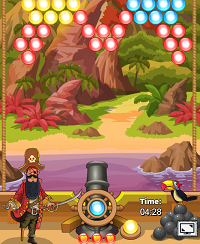 HOW TO PLAY PIRATE BUBBLES
Use your mouse to aim and click to shoot your cannon!