ABOUT PIRATE DREAM
PIRATE DREAM DESCRIPTION
Help me pirate through this garbage in this Pirate Dream bubblegame! Shoot the cannon up the air and combine 3 objects to make them disappear. The more you shoot in this bubble game, the harder it gets.Good Luck!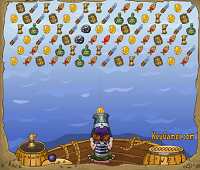 HOW TO PLAY PIRATE DREAM
Use mouse to control in this game.