ABOUT POU POPPER
POU POPPER DESCRIPTION
Pou is a kind of Popper Puzzle Bubble bubble where instead found tamagotchis Pou .The player aims their Pou of a certain color at a group of Pous. When they launch the Pou, it will stick to the rest of the Pous. If the Pous that it sticks to are the same color as it, the Pous will disappear. For example, if you launched a pink Pou at a group of pink Pous, those Pous would disappear if the Pou touches them.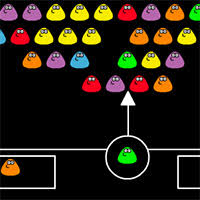 HOW TO PLAY POU POPPER
Use Mouse to aim and shoot.