ABOUT SANTA GIFT SHOOTER
SANTA GIFT SHOOTER DESCRIPTION
Santa Gift Shooter is a simple and elegant game with great effect of santa game on this Christmas. To all the deer santa lovers, play this bubble shooter Christmas game. Use Candy cannon to shoot all of Gifts each level. Each candy costs money so you'll need to shoot all of gifts level before you run out of money. Shoot bonus items to help you get more money or powerful shots. Good Luck!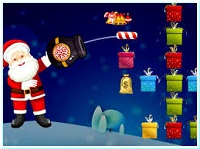 HOW TO PLAY SANTA GIFT SHOOTER
Use mouse to control in this game.