Click 'Allow' to play Snood Classic!
Click the Lock icon and change Block to Allow to play Snood Classic.
1. Click the
or
-icon top left in the Chrome address bar.
2. In the Flash dropdown, select '
Allow
'
3. Refresh the page.
Click 'Always allow' to play Snood Classic!
Allow button not appearing? Click here »
If you don't see the Flash option above, you can still enable Flash as follows:
Open a new tab and go to
Change Block (default) to Allow in the Flash section
Reload the page
This game is using Flash! After the 31st of July 2019, your internet browser might start blocking Flash, especially if you use Google Chrome. This means you'll have to activate it to play this game.
BUBBLE SHOOTER
ABOUT SNOOD CLASSIC
SNOOD CLASSIC DESCRIPTION
Play the classic version of Snood! Each turn you may launch a randomly selected snood into the play field. Connect 3 or more snoods together to teleport them off the play field. Snoods can be launched directly at a target, or ricocheted off the walls for extra style points! Snoods teleported off the field will also release any other snoods from hanging from them. On later levels, you may encounter sleeping snoods. They must be woken up before they will react to other snoods. Style points are given for more difficult or stylish shots like bouncing snoods off the wall or releasing groups of snoods. The danger meter builds with each snood launched, and recedes when snoods are released. If the danger meter fills, the snoods descend. If they descend past the bottom of the playfield, the game is over. The round is cleared when all snoods are teleported off.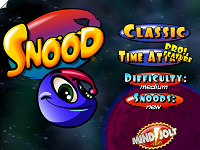 HOW TO PLAY SNOOD CLASSIC
Aim/Shoot