Click 'Allow' to play Star Bubbles!
Click the Lock icon and change Block to Allow to play Star Bubbles.
1. Click the
or
-icon top left in the Chrome address bar.
2. In the Flash dropdown, select '
Allow
'
3. Refresh the page.
Click 'Always allow' to play Star Bubbles!
Allow button not appearing? Click here »
If you don't see the Flash option above, you can still enable Flash as follows:
Open a new tab and go to
Change Block (default) to Allow in the Flash section
Reload the page
This game is using Flash! After the 31st of July 2019, your internet browser might start blocking Flash, especially if you use Google Chrome. This means you'll have to activate it to play this game.
BUBBLE SHOOTER
ABOUT STAR BUBBLES
STAR BUBBLES DESCRIPTION
Star Bubbles is an action-based puzzlers that puts players to the task of tossing colored bubbles up to a stack of other colored bubbles. Select a goal - bubbles of the same color and shoot. If a bubble from a catapult and bubbles in the wall form groups of 3 or more same-colored bubbles they disappear. The goal is to get rid of all star bubbles.Try to aim accurately! Even if there is not right color bubbles on the field, shoot a bubble in any part of the field and continue shooting at aims.In this version of the game bubbles from the top constantly move down though very slowly. This will prevent a player to forget about the limited amount of time and will add a new drive in the familiar game. A pleasant space background with the night sky, stars and the large bright bubbles with painted stars will dive the player in a magical atmosphere of galactic travel.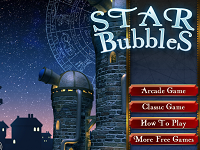 HOW TO PLAY STAR BUBBLES
Use your mouse to interact