ABOUT YUMMY-YUMMY MONSTER SHOOTER
YUMMY-YUMMY MONSTER SHOOTER DESCRIPTION
Play a game about Yummy Yummy Monster Shooter scores and try to blow up your score! Your first task will be to eliminate the maximum number of monsters by grouping them with at least three identical colors to earn points. Have fun!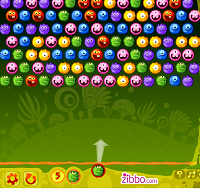 HOW TO PLAY YUMMY-YUMMY MONSTER SHOOTER
Use mouse to control in this game.